Beging quite keen on Michael Portillo's BBC TV series Great British Railway Journeys and, like many others, I fancied a copy of his Bradshaw's Guide that I could thumb through myself.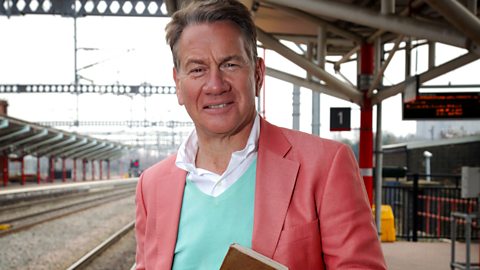 A quick bit of research showed that there are a confusing array of versions in print. However, I ended up buying Bradshaw's Handbook, a facsimile of the 1863 edition produced by Old House Publications, and available from Amazon as a hardback (ISBN-10: 1908402024; ISBN-13: 978-1908402028) for the princely sum of ten pounds. It's also available as an ebook for six pounds.
Collector's item, landmark in the history of the tour guide, snapshot of Britain in the 1860s - Bradshaw's Handbook deserves a place on the bookshelf of any traveller, railway enthusiast, historian or anglophile. Produced as the British railway network was reaching its zenith, and as tourism by rail became a serious pastime for the better off, it was the first national tourist guide specifically organized around railway journeys, and to this day offers a glimpse through the carriage window at a Britain long past. This is a facsimile of the actual book - often referred to as 'Bradshaw's Guide' - that inspired the 'Great British Railway Journeys' television series, possibly the only surviving example of the 1863 edition. It is an exact copy with a removable belly-band.

Old House also produce a Premium Edition of the 1863 guide for £22.50. ISBN-13 978-1908402486, as well as other Bradshaw titles, and Amazon also sell an 1866 edition by Middleton Press (ISBN-10: 1908174056; ISBN-13: 978-1908174055).
Michael's website links to a blog post that explains that the 1866 edition of Bradshaw's handbook for tourists in Great Britain & Ireland can be downloaded without charge from the Hathi Trust Digital Library. It's freely distributable because it is in the Public Domain:
We have determined this work to be in the public domain, meaning that it is not subject to copyright. Users are free to copy, use, and redistribute the work in part or in whole.
The blog post also explains that Michael's copy was sold to him by Robert Humm, a Transport Bookshop who also lists two versions for sale:
There is a web-based version that looks good but it looks like it only covers setion one so far (also on GitHub).
There is also a Twitter account, albeit tweetless.
Finally, Bradshaws is on Google Books.
---
ISBN(International Standard Book Number) wikipedia validate search